Welcome to
Calgary Villains FC
Calgary Villains FC
Indoor 2022 Evaluation Schedule
Calgary Villains FC (CVFC) is a not-for-profit organization managed by a volunteer Board of Directors. CVFC was established in 1981 by Chris Baker and several current Club alumni motivated by love and passion for the game they grew up playing. The passion for soccer has continued to grow CVFC into one of the most successful clubs in the City of Calgary with a membership of approximately 1200 youth players and 150 adult players of all ages.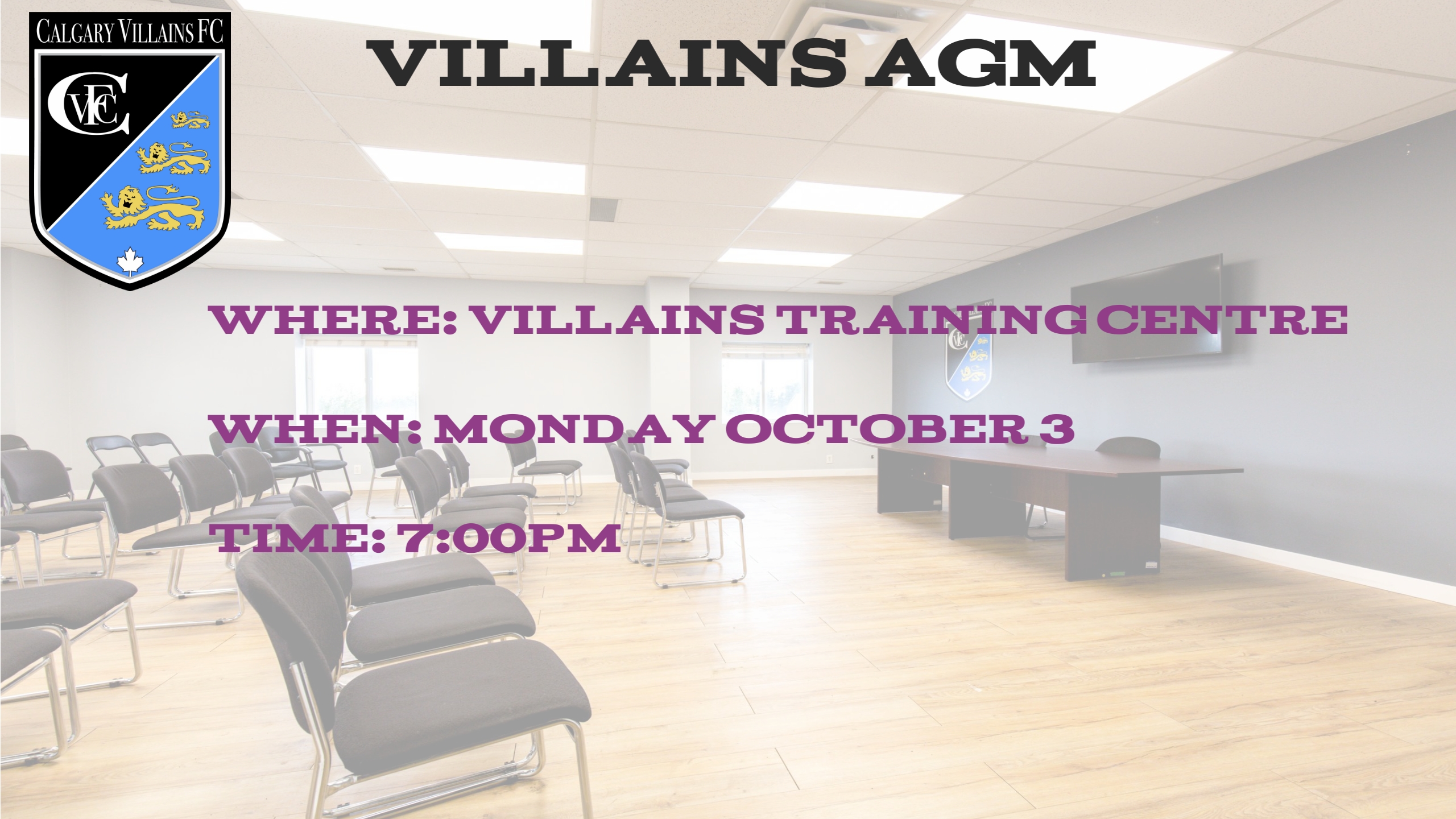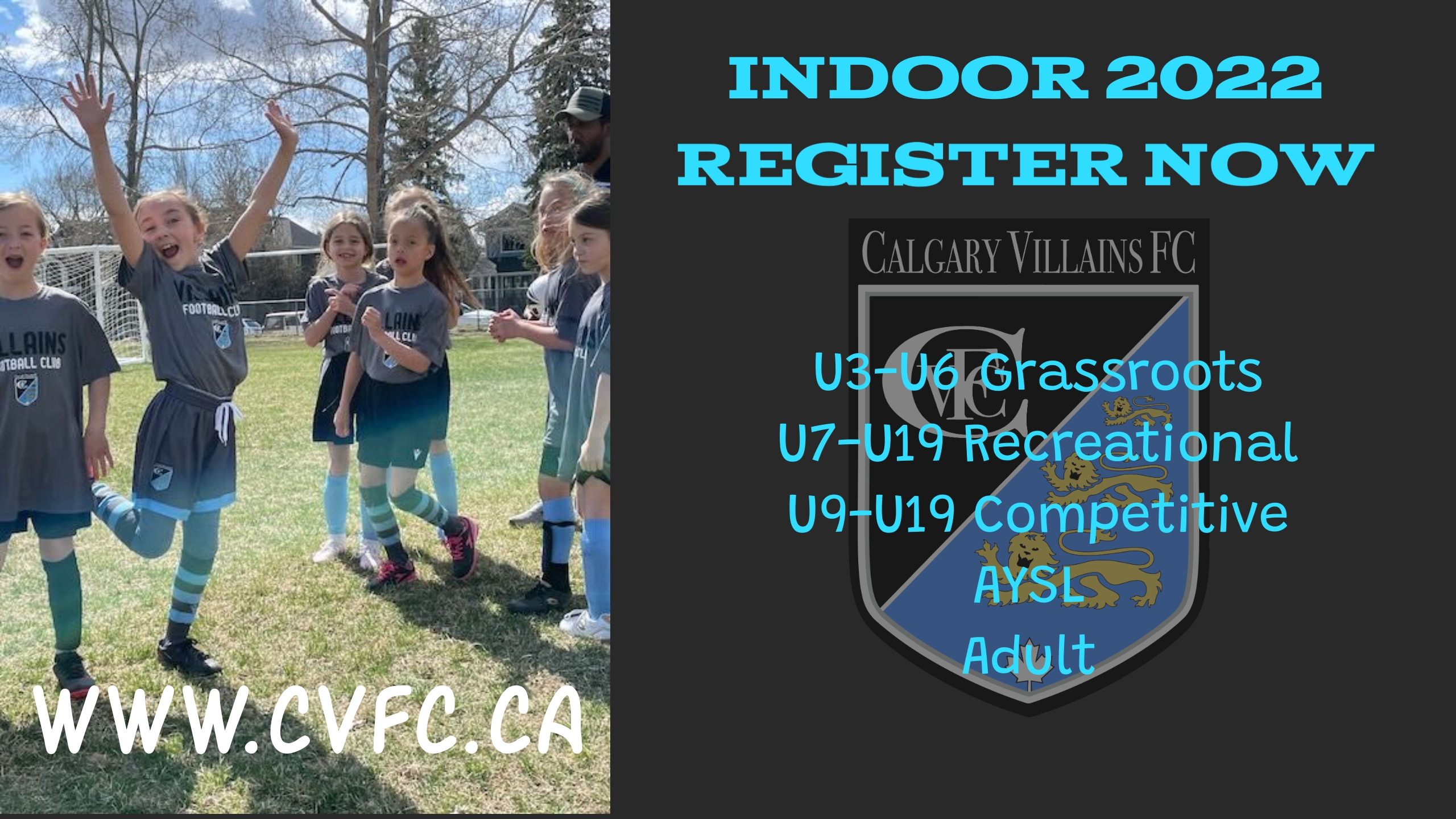 Fields updated @ 4:30pm Daily
• Grassroots Fields
Open
Closed
• Elbow Park Community Centre
Open
• Parkhill Community Centre
Open
Announcement:

Shows on all pages - Can be linked to reg.
Young Villains Grassroots Soccer
Our Young Villains Program is a grassroots community program that will run small-sided games and training each week. We plan a 25-minute skill session combined with a 30-minute game and a 5-minute warmup for each training block.  Indoor training is at our newly opened Turf facility while Outdoor runs at our centrally located club fields. 
CMSA Soccer U7-u19
CMSA U7-U19 has games scheduled by our governing body. We have two streams pending on the level and time commitment of the player.
The recreational stream is 1x team practice and game per week, as well as 10 skill centre sessions, run by club staff.
The Competitive Stream adds on more training with higher certified staff, Sports Science & Video Analysis.
AYSL High-Performance Soccer
This program starts at U14 and is designed for those wanting to play within an Alberta-Based Standards League.  We are one of a small handful of clubs that have a license to take part in this program. This will include more training hours, sports psychology, University showcases and European Tours.
Adult Soccer
We are the only youth club to have a Men's Major league team and are one of the original founding members of the league. We have Men's & Women's adult teams and partnerships that play anywhere from top-flight Major down to division 6.
We are also about to launch our internally U23 Program which will become a new pathway for our players.
We run Summer & Winter Camps for all ages and abilities. Winter camps will all take place at the Villains Training Centre & our Outdoor camps take place at Marda Loop Club Fields. 
Our Keeper Program is free to all members and registration is done through our member zone. All sessions are currently completed by National Diploma Keeper Coach Marcel Galaszkiewicz who has been a club favourite for many years. 
Villains Training Facility
We have recently opened a 19000 SQ FT Turf facility that is equipped with a weight room, team room, reception, offices and presentation centre. We are finishing up our plans for the Villains Soccer dome that we are building in 2023!
AYSL
High Performance U13+
Serving Our Soccer Community Since 1984
Donec rutrum congue leo eget malesuada. Cras ultricies ligula sed magna dictum porta. Quisque velit nisi, pretium ut lacinia in, elementum id enim. Vivamus magna justo, lacinia eget consectetur sed, convallis at tellus. Proin eget tortor risus. Mauris blandit aliquet elit, eget tincidunt nibh pulvinar a. Curabitur aliquet quam id dui posuere blandit. Cras ultricies ligula sed ma
Our Club Is Our Family
Donec rutrum congue leo eget malesuada. Cras ultricies ligula sed magna dictum porta. Quisque velit nisi, pretium ut lacinia in, elementum id enim. Vivamus magna justo, lacinia eget consectetur sed, convallis at tellus. Proin eget tortor risus. Mauris blandit aliquet elit, eget tincidunt nibh pulvinar a. Curabitur aliquet quam id dui posuere blandit. Cras ultricies ligula sed ma