Who can register for Calgary Villains FC?
Calgary Villains F.C ( Elbow Valley Soccer) is located in Central Calgary and is the top soccer club in this area for boys and girls of all ages. 
Players looking for grassroots, recreational, competitive and high performance
Players wanting a fun environment
Players wanting better training program
Players who can start in U3 and continue through into adult programming at the same club
Keepers who want free keeper training
Families who want their child training on safe and soft turf for Winter months & bad weather conditions
Own Club Facility- Year Round Access to Top Facility
We are 1 of 3 clubs in the city that has it's own turf facility and the only one in the surrounding area. This ensures our players train on the best turf through the winter months but also the ability to move training indoors with smoke, rain, or bad weather. We are the sole user in the facility so can control, modify and adapt training slots.
Players are able to come from all over the city to play for Calgary Villains F.C but we do serve as the primary home to the communities of Altadore, Elbow Park, South Calgary, Lincoln Park, Bankview, Richmond Hill, North Glenmore, Mount Royal, Garrison Woods, Rutland Park, Glenmorgan, Lakeview, Beltline, Britannia, Currie Barracks, Chinook Park, Elboya, Eau Claire, Haysboro, Kelvin Grove, Rideau and Windsor Park.
The focus of our club is to allow our players to stay within the club in grassroots ( U3-U8) a youth player (u9-U19) and continue to play well into their adulthood ( over 18) without having to switch clubs.  
How do I register?
You can register via Club Website www.cfvc.ca or by going to cvfc.powerupsports.com 
This is also found under quicklinks on the right-hand side of our club website and you will see a Register Now Button. 
Registration for Outdoor opens February 1
Registration for Indoor opens August 1 
In order to create a family member zone account you need to do the following:
1. Click Signup with yourself as a guardian first ( over 18 years old). – 
2. Add family member which is the kid(s) who will be registered with proper birthdate
3. Once you have this completed you can click Register Now which will populate the registration options for your children.
4. Payment plans and instalments are available for anyone in the club. Don't hesitate to contact us for these options. To do that email our Club Registrar-  villainsregistrar@gmail.com 
What program does CVFC use for registration?
Powerup sports is our registration portal and has been since 2015.  Most clubs in the city have now also adopted powerup sports so this allows you to keep your username and login when moving to us from other clubs. Powerup is our portal for all family information as we use this for all communication, player team announcements, family account information.
What programs does Calgary Villains offer?
Calgary Villains F.C. offers soccer programs for children from U4 to U18. We also run Adult league programs with teams and partnerships in the top level of both Men's and Womens League ( We are the only club in the city that has this same level of play being offered). 
U3-U8 Young Villains Program
U7-U19 Recreational Program 
U9=U19 Development Program 
AYSL Program U14-U17
Adult Program 18- 65 years old
Does Calgary Villains FC offer payment plans?
Does Calgary Villains FC offer payment plans?
Does Calgary Villains offer training for all levels? How about Keepers?
Yes, we are happy to let you know that we offer training for our registered CMSA programs. 
Performance Program U9-U19
 Ran by Uefa Pro Munib Koric get 2x academy per week
GGX additional training over and above club program which is open to players outside of the club as well.
Development Program U7-U19
Ran by our boys and girls lead ( Provincial B Licensed) get 6-10 sessions pending on age group.
Keeper Program U7-U19
 Ran by Head Keeper Coach and former Calgary United ( Calgary Indoor Pro Team) Keeper. We offer free keeper training to all players in the club. We also have the option if a keeper would like private 1 on 1 training available. 
Grassroots U3-U8 
Our U7-U8 outdoor program will have non-parent leads at the field running weekly training
Our U3-U7 Indoor Program uses a Preferred Training Model with stations run by our club staff
How do I pay for registration?
At Calgary Villains we use Powerup Memberzone as our family account portal. This program will keep track of all your players, receipts, payments, scheduling etc. We do all of this online and families no matter the age or level of play must create a family account prior to us assisting with club registration. 
Families can automatically pay online with Credit Card which is encrypted and stored for payments within the same season. Debit, cheque, cash, e transfer are also all available to be used. Please note that unpaid registrations do not hold a spot in our program, so families must make at least the first payment at the time of registration. 
Check our FAQ on Payment Plans if it is needed for you. 
Why is my account not getting club communication?
When you set up your family member zone account it is very important that you do the following:
Select " Yes" to email opt-in
To change this after registration is complete, you log into your account, left-hand side select edit profile, and click yes to email opt-in
Powerup is used for all club communication so it is important you have this marked off as yes for your account.  
Volunteer Levy
As the Club is constantly in need of help, the Board has decided to add a volunteer levy to the fees which started in the Outdoor 2019 season. This is especially important in seasons when we have Casino. That said, families can work off the Volunteer Levy by assisting in coaching or managerial roles ( 3 Per Team in u9-U19 Programs, 2 per Team in U7-U8 City Programs), tryouts, start and end of season inventory. Volunteer levies are almost universally instituted by our competitor clubs and many are higher than the $100 we charge. When a family completes the volunteer requirement the $100.00 will be returned to their Member zone account as a credit to be used in the following registration season.
As it is easier for us to budget and administer a revenue adjustment for the next season rather than a series of refunds in the current season the Board decided to refund the Volunteer fee as a credit to the next season. HOWEVER if a player decides to leave the program and a volunteer fee is owed by the Club the fee will be paid upon request.
Please volunteer to help us make our Club and our programs even better in the future!
Refund Policy
Registering a player in any of the Calgary Villains Soccer Programs, and signing the registration form, binds the player and the club to follow this policy on refunds of fees for players who do not participate in any or part of the program they registered for. All refunds are subject to the withholding of the non-refundable administration fee as a minimum, plus an amount to cover costs already incurred on the player's behalf.
U7-U19 CMSA League Programs
Refunds will be considered, less a $200 admin fee, when made in writing on or prior to the first day of club-wide evaluations to the attention of club registrar via villainsregistar@gmail.com. After the first day of club-wide evaluations for any age group, the club will not entertain any refund requests.
U3-U8 Young Villains Grassroots Program
Refunds will be considered, less a $50 admin fee when made in writing on or prior to April 1
Telephone requests are not considered valid for any level of play.
Non-routine refunds will only be entertained after that date if there is a medical reason verified by a doctor's note for a player's injury.. All non-routine refund requests need to be submitted using a "non-routine" refund request form and will be reviewed by the Board of Directors. Players who claim a medical refund will be blocked from any transfer in that season to another club. Please note these cases are for players requiring surgery and will be out the majority of the season.
Please note that players who choose to quit a team and are involved in the Academy Program must pay out all Academy Fees and Club Registration Fees before your child will be released. This includes any future payments, sports science fees, video analysis fees or any other fee that was done on a payment plan. The club instalments are not covering a period of time in training but used to spread out the payments for families and as a result, must be paid to the club.
Team placements are not an approved refund request and will not be entertained.
** If your case is a non-routine refund please use the attached file and make sure all boxes are filled out correctly with a doctor's note otherwise the refund will not be discussed**
Do I get a refund if I'm not happy with my child's placement?
We do not provide refunds for families who have a discrepancy for team placement.  However, if we do not have a team for your child you will be provided a refund for program fees.  Training kit fees are non-refundable once they have been worn by the player.
I forgot my Memberzone password or need to update my new address
Does my child need a CMSA Player Card?
Player Cards are not needed for our grassroots program U3-U8. 
Player Cards are not needed for our CMSA Program U9-U10
Player Cards are necessary and mandatory for U11-U19 Programs in order to play. In order to get your child a player card they must be registered for the season and the club will provide the CMSA number to book an appointment.  You can check www.calgaryminorsoccer.com for dates and times to get your card. If your child does not have the CMSA player card they cannot play in any games. 
AYSL program's must have a special AYSL card and that is also done directly at CMSA office.
When does the season start?
We have a full detailed program guide for each age and level of play under our Programs Tab. 
Season of play are only used as parameters, the club will update members with changes to any season structure. 
Outdoor 
Registration normally opens around Jan 15, tryouts run in March, and the season of play varies for each group:
U3-U8 Grassroots April-June 
U7-U12 Program – April – June ( September Fall Cup)
U13-U19 Program – April – July ( Optional Fall Cup September)
Indoor 
Registration normally opens around August 1, tryouts run in late September / October, and the season of play varies for each group:
U3-U8 Grassroots October – December Phase 1
U3-U8 Grassroots Jan-March Phase 2
U7-U12 Program – Nov -February 
U13-U19 Program -Nov – March
Uniforms,Club Wear & Schedules
What is the club uniform policy for games?
The club uniform plays an integral part in the forging of club identity and in building both a sense of community and of pride in the organization. This can only be accomplished if all Calgary Villains F.C teams wear the complete club uniform so that no matter what the division, no matter what the occasion, the team can be readily identified as representing Calgary Villains F.C.
We have made a brand new design launch for the club that has outfitted our U9 to U19 Program. This is part of the club's new rebranding initiative with Macron.
Club Jersey U9-U19 Program
Jerseys and shorts are loaned out to the team each season but must be returned washed and in good condition at the end of the season. Players keep the socks after each season as a gift from the club. If the club deems the jersey's shorts unusable players' accounts will be charged $100.00 to replace the order.
Club Jersey U3-U8 Program
In our grassroots and city league program, we are providing the club uniform wear that is kept at the season end. This will be Jersey, shorts, socks and we also include 2x coaches shirts with the team order.
Training wear uniform
As we are doing our best to keep consistency in the club we want the training wear for practices, technical and academy to be the same team wear through the club. This results in all U8-U19 Players purchasing our training package from the reception at our facility or through the online portal in our member zone.
New Player Package A – For anyone new to club wanting to get full training wear and backpack.  This bundle is discounted with having the items together. 
New Player Package B – When they already have a T Shirt and need to purchase the shorts, socks and would like a backpack. This bundle is discounted with having items together. 
New Player Package C – This is the basic package that is MANDATORY U9-U19 PROGRAMS This package is what is worn in all training sessions ( game jerseys and shorts are not to be worn outside of games)
New Player Package D – When shirt still fits they can purchase socks and shorts. 
We have a full store for many more items teams can purchase to look the same.  Please note any teams going away on a tournament must have either the same club hoodie, backpack or jacket.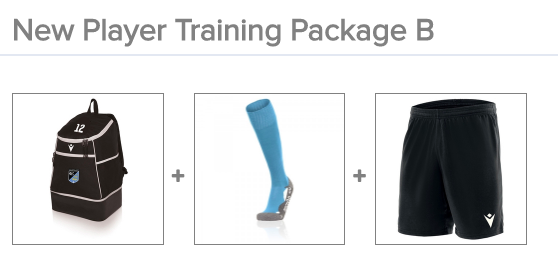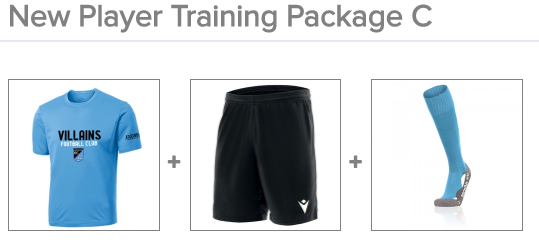 What equipment does a player need for the season?
Grassroots U3-U8 we would recommend that your child has small shinpads and soccer cleats ( it is not mandatory but does replicate what will take place in u7 City -U19 Programs). We provide the uniform in grassroots program.
U7 City to U19 Programs must have shinpads in order to play in any league game.  These players will need cleats for the Outdoor season and Indoor shoes for the Indoor program ( flat sole soccer shoe).  Players are to purchase our training package C as bare minimum for our training package.
When do we get our uniforms?
Grassroots Program – Coaches will pick up the club uniforms and bring to the opening night of games. 
CMSA Based Programs U7-U8 City will be given uniforms the week before league games at club training or at the intra squad friendlies.
CMSA Based Programs U9-U19 will be given at the pre-season club tournament and or club training leading up to league games.
Where is the schedule?
Team Snap Schedule will be sent to all families as soon as games schedules are announced for each program. Young Villains Schedule – Full schedule will be emailed 10 days prior to the season start.  This will contain the league schedule and field number for each game. 
City Programs – Once assigned to a team you will get an email from the club and or team coach that outlines the training schedule.  Coaches pick practice day and time once the game schedule comes out from CMSA. Please note we have no control over game schedules as that is done through CMSA www.calgaryminorsoccer.com We as a club get the game schedule 3-4 days before the first league game, so with that will come a few changes to our master schedule. 
** CMSA makes the game schedule for all clubs in Calgary **
When do we find out the practice schedule?
Indoor Program – All training at our newly opened Villains Training Centre 830 59 ave S.E   We have over 13000 SQ FT of top of line turf for our teams to train on.  We have divided field lines into 1/3's, 1'2s and full pending age group and program plan.  The club provides practice days based on CMSA schedule, academy schedule, club fitness, video analysis etc.  We have to fit a jigsaw puzzle to ensure all sessions are able to fit. 
Outdoor Program – We have plenty of fields available that coaches can select almost any day and time they would like.  We try to encourage younger programs starting at 5:30 or 6 pm kick-off for practices for younger groups and moving up to older slots for older teams.  Normally last session start is 8pm or 815pm pending length of the session and available light outside.
Where are practices being held?
Playing time philosophy
PlayTime Philosophy:
1. All Grassroots Programs are Equal Play Time
2. Recreational Program Tier C, D & 3-5 – U7-U19 is Equal Play Time over the course of the season ( not a specific game)
3. Recreational Program Tier A-B U9-U10 is Equal Play Time over the course of the season ( not a specific game)
4 Competitive Program Tier 1-2 U11-U12 – Close to Equal Play Time over the course of the season ( not a specific game)
5.Competitive Program Tier 1-2 U13 -Adult – Not equal playtime
6. Adult Major League Program – Not equal playtime
Does the club support friend requests?
All Grassroots Program U3-U8 support friend requests ( up to 3 on a roster) 
All RecreationalProgram U7-U19 can request a friend ( players would move to the team where the lowest assessed player was ranked)
All Development Programs U9-U19 do not have friend requests for Tier 1-2 Level.
How are teams formed?
All grassroots rosters are formed with no tryouts. We use friend requests and coach volunteers to balance all rosters
Tryout Philosophy and Schedule found here
We do not select teams prior to any tryout process, so all players in the club have the same opportunity to make the top team if that is their desired choice.  Players who do not want to make the top teams are still asked to attend tryouts so we can have a proper assessment and be able to provide notes and feedback on all players in the club.
Where do I find out about my team?
Everyone is provided a Team Snap Account where you can access the Team Roster at that time.  This will also be used for club communication, club schedules and any other upcoming club events. 
Who are the coaches?
Grassroots U3-U8 Coaches volunteer at the time of registration and we do our best to split them up over the teams in each division so that all teams have a lead. We also provide club staff at each field who will support coaches with club documents and on field help. 
CMSA program coaches are volunteers and are selected by the club through registering with the club. We have non-parent coaches and parent coaches involved in the programs and support them through coach education sessions and continued licensing streams from Alberta Soccer. We are very fortunate to have a strong alumni program that comes back to help coach in our club. 
Coaches in our development stream have taken C license as minimum standard but many are youth licensed, children licensed and or UEFA licensed.
When are coaches and managers advised of rosters?
Normally Teams are selected and finalized 10-14 days before first league game so coaches can work on pre season shape, tactics and team bonding events. 
How do I become a coach?
For our Programs to be a success we need your help! All coaches are volunteers and we appreciate your effort, knowledge and willingness to give back to the club. As a club we will also be providing Age Group Coordinators that will be on the field to lead sessions, provide support, give feedback and be a friendly face to the kids.
As a club we are always open and welcoming to new coaches coming aboard. If you are interested to coach you can apply at the same time as you register your son or daughter. If you do not have a child in the program and would like to coach you can still make a MemberZone Profile with your information. On the left-hand side of the MemberZone, you will see a tab that says " Volunteer Now" This tab will take you through the remainder of the steps to complete the process. We want to also help develop and mould our coaches and support them in getting licensing through Canada Soccer Pathway. We will put on coaching courses for licensing streams, but coaches can also register in other courses if the timing doesn't work and will be reimbursed in the following club season so long as they have continued to coach in our club.
Coaches Must have:
CMSA Coaches Card – New coaches need a profile created to obtain a number
Police Clearance – CMSA advises on the process for this ( the club will cover. the expense to obtain this record)
Coaching in the club will waive the volunteer levy that will be returned in the following season on the member zone profile. 
Coaching support?
We run in-house coaching sessions to help educate and support our program. In the Memberzone we have a section for coaches that contains information related to session plan, pre-designed practice plans, year-long plans, keeper drills, fitness drills, phase of play drills and game day processes.